Skye Visitor Centres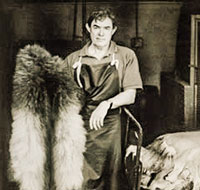 Skyeskyns is Scotland's only sheepskin tannery and a 5 star Visitor Attraction.
Come and meet a member of our team for a free guided tour and learn about the historic craft of leather-making in our traditional working exhibition tannery. Browse our wide selection of sheepskins, bespoke throws and mosaics as well as our extensive range of contemporary knitwear, scarves, hats, gloves and more.
A very warm welcome awaits.