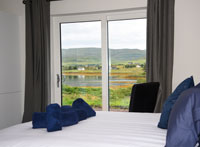 Treaslane Bridge House is a newly constructed high standard accommodation located a ten minute drive from Portree on the Isle of Skye.
The property has been designed to the highest possible standards and includes modern en suite rooms, private parking and free guest WIFI.
Treaslane Bridge House offers outstanding sea views of the Isle of Skye from many of our rooms.