Two Cuillin ranges dominate the landscape on Skye: the Black Cuillin and the Red Cuillin separated by Glen Sligachan.
The iconic ridge of the Black Cuillin is the UK's most challenging mountain range. Over 11 kilometres long and above 3,000 feet in places, the ridge contains 11 Munros and 16 other summits. The highest point is Sgurr Alasdair at 3,254.59 feet. The gentler, rounded Red Cuillin are popular with hillwalkers, the highest point being Glamaig, a 2,543-foot Corbett.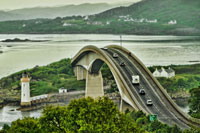 The Isle of Skye is connected to the mainland by a road bridge. Connecting the mainland village of Kyle of Lochalsh to the village of Kyleakin on Skye.
Since December 2004 the bridge has been free to cross for all, but it was not always this way. When the bridge first opened in 1995 there was an expensive toll charging both ways to cross.
Hidden in the hills of Uig, above the sweeping sides of Glen Conon, the enchanting geographical formations that form Balnaknock, the Fairy Glen (Bail nan cnoc in Gaelic, meaning village in the hills) has gained this special miniature landscape on Skye a reputation for being a place of myth and wonder.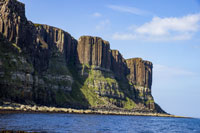 On the Trotternish Peninsula in the north of Skye lies the spectacular Kilt Rock (Creag an Fheilidh in Gaelic), a 90-metre-high wall of multi-coloured hexagonal columns of basalt rock and dolerite sills resembling the pleats of a tartan kilt. It is one of the most spectacular views on Skye and the site gets very busy in the summer months.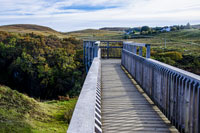 Carved by the River Lealt, the eponymous falls plunge 90 metres down a narrow, tree-lined gorge into the Sound of Raasay. A recently constructed viewing platform gives some breathtaking views of the upper falls and the lower falls can be accessed from the main car park where there is a steep descent to the beach. There is a large plunge pool at the base of the lower falls for anyone brave enough to face the cold water.