Skye Bridge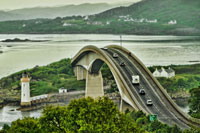 The Isle of Skye is connected to the mainland by a road bridge. Connecting the mainland village of Kyle of Lochalsh to the village of Kyleakin on Skye.
Since December 2004 the bridge has been free to cross for all, but it was not always this way. When the bridge first opened in 1995 there was an expensive toll charging both ways to cross.
---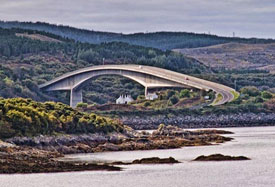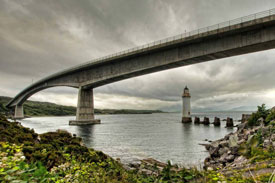 Ferries
Prior to the opening of the bridge the main route to Skye was by the ferry between the 2 villages Kyle of Lochalsh (Mainland) and Kyleakin (Skye). The ferry service was operated by Caledonian MacBrayne the short route of about 500m took 5min.
Construction
The bridge construction started in 1992 built by the Scottish company Miller, but designed by a German engineering company DYWIDAG Systems International in collaboration with civil engineering firm Arup.
The main bridge is a concrete arch, supported by two piers. This connect Skye to the small island called Eilean Bàn, the rest of the bridge is level across to the mainland. The total distance across is 1.5 miles (2.4km). The main arch is about 35m high (30m clearance for boats on high tide).
Past Politics
Most people wanted the bridge, but the way in which it was funded was conversional. Rather than the UK government paying for it, the government allowed it to be privately funded. Then granted a licence for the private company to charge tolls. It was said to be the most expensive road bridge in Europe.
This clearly unset many people. Locals on Skye setup a campaign group called SKAT (Skye and Kyle Against Tolls). After years of campaigning, legal challenges and then the setup of the new Scottish parliament in 1999 the leading political parties made it a priority to have the tolls abolished.
On the 21st of December 2004 the bridge was purchased by the Scottish Government and made free to cross.
Island
Eilean Bàn (White Island) is the small island upon which the main arch of the bridge rests.
The island has a 21m high lighthouse just below the bridge arch. The lighthouse keepers (before automation in the 1960s) stayed in the cottages on the Island. These cottages where then purchased by Gavin Maxwell who is best remembered for is work with otters. Maxwell did many interesting things including writing wildlife books, his most famous is called "The Ring of Bright Water".
These days the island is a wildlife reserve being managed by the Bright Water Trust. One of the cottages is now the Maxwell museum. This is a reconstruction of Maxwell's 40ft living room, containing original artefacts, recreated by Virginia Mckenna of the Born Free foundation.