Isle of Skye Half Marathon 2018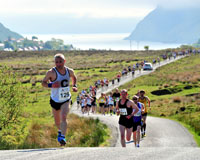 Date: 09/06/2017
Location: Portree
13.1 mile road race on one of the most beautiful islands in the world.
The Skye Half Marathon leads the way in distance running events in the Western Isles. With Chip Timing, Isotonic drinks and a challenging course on a spectacular backdrop, it really isn't hard to see why this race is quickly becoming the hidden gem of the Scottish running calendar.
Make a weekend of it and visit the stunning Isle of Skye!