Skye Visitor Centres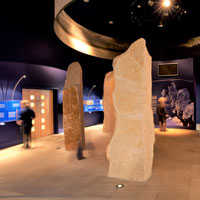 In the grounds of Armadale Castle, award-winning museum and library/archive centre.
Follow the story of Clan Donald and the Highlands through six permanent galleries and special exhibitions. Explore the archive centre with books on tartans and clan histories. If you have ancestors from Skye, or MacDonalds in your family tree, we may be able to help with your family history research. Entrance to the Museum and Archive is included in ticket to Armadale Castle.