Dunvegan Bed & Breakfast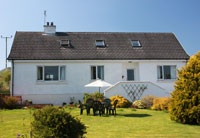 Dunshee offers bed and breakfast accommodation situated in the picturesque hamlet of Roskhill near Dunvegan.
We provide two types of accommodation:
Dunshee Apartment with self-catering facilities for couples providing a cosy Highland experience. The apartment overlooks the ornate garden and hills. Breakfast included.
Dunshee King Suite is a spacious haven for two, with skylights overlooking the loch and the hills. Delicious breakfasts are provided every morning. An ideal base to explore this beautiful island.