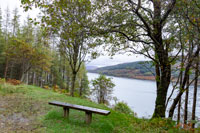 The walk to the Otter Hide is along a forest path by the shore at Kylerhea. The hide is a wooden building that looks out over the sea and allows you to watch the otters down on the shore using the binoculars provided inside the hide. This short walk makes a intresting stopping point to stretch your legs when traveling to Skye using the Glenelg Ferry.
This walk is 2km in total and takes an average of 30minutes to complete. The route is graded as Easy as the track is solid underfoot making it ideal for all.
The Forestry Commission have provided information boards and signs to guide you and explain what can be seen. There is also a small toilet block.
Location
The walk is 36miles from Portree. There is a large well-maintained carpark with space for around 20 cars where there are picnic benches that enjoy lovely views of the sea.
Kylerhea is a small township where the ferry from Glenelg reaches Skye. It is the narrowest section of water between Skye and the mainland. The narrows have a large tidal flow which often can be seen on the water surface.
Stage 1
The walk starts from the car park along the solid stone forestry road. The path is well sign posted. The first part of the path is directly uphill from the slipway for the Glengelg Ferry.
Just a few minutes into the walk you will reach a wooden toilet block on the left. Here is the first of several benches allowing you to stop and enjoy the views over Kylerhea.
You will see posts along this route with information boards that can be flipped out. They have lots of information about local wildlife.
The track continues through the forest, there is a mix of native and planted trees including rowan, birch and spruce.
At 0.8km into the walk you will see a sign for the Otter Hide. Turn right off the main track and follow a narrower path down to the wooden Otter Hide building.
Inside the Hide there are information boards about the wildlife that are in the area. The Hide is equipped with high powered binoculars so you can look down at the shore to try and spot some otters.
If you are keen to do a slightly longer walk you can continue along the main forestry road, but the track beyond the Hide is less well maintained and can be wet in places. It would be recommended that you wear more robust walking boots if you choose to go on and explore this path.
Stage 2
Once you have looked for the otters, follow the path back to the car park.