Skye Visitor Centres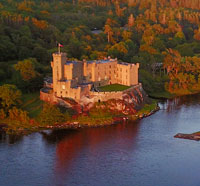 Any visit to the Isle of Skye is incomplete without savouring the wealth of history offered by Dunvegan Castle and Gardens. Dunvegan is the oldest continuously inhabited castle in Scotland and has been the ancestral home of the Chiefs of Clan MacLeod for 800 years.
Visitors can enjoy a tour of the Castle and delight in the beauty of the Walled, Round and Water gardens, as well as the Woodland Walk.