Isle of Skye Cafe's
Location | Dunvegan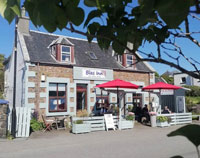 We are a small, seasonal café based in the village of Dunvegan on the West Coast of the Isle of Skye.
Our café is open daily serving traditional Scottish cooked breakfasts, through to morning coffees, lunches, afternoon teas and evening meals.
Located just a few minutes' drive from Dunvegan Castle. Stop in for a break when you are exploring the Isle of Skye.