Sleat (East) Self Catering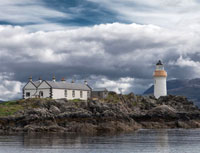 Eilean Sionnach Lighthouse Cottage is situated on a private Island off Isleornsay in Sleat.
The cottage sleeps 8, has all modern conveniences, including superfast broadband and a tumble drier. Your arrival is by boat transfer and is tide dependent. Pub and restaurant nearby. Read a book, watch for wildlife and enjoy taking the time to relax and simply just 'be'.