Isle of Raasay Hotels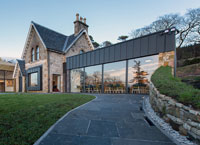 Treat yourself to an unforgettable experience and stay in our luxury accommodation at the first legal distillery on the Isle of Raasay.
Enjoy amazing views over to The Isle of Skye. All guests have access to the Executive Lounge which is fully stocked with refreshments and snacks. For more information about our luxury accommodation please visit our website.