Isle of Raasay Hotels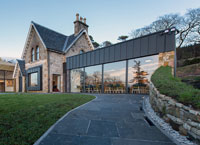 Treat yourself to an unforgettable experience and stay in Borodale House, the luxury accommodation located within the first legal distillery on the Isle of Raasay.
Enjoy amazing views over to the Isle of Skye. Guests staying at the distillery hotel can enjoy our whisky lounge on the ground floor as well as our 5 star visitor centre, bar and restaurant. For more information about our luxury whisky hotel and to book please visit our website.