Trotternish Bed & Breakfast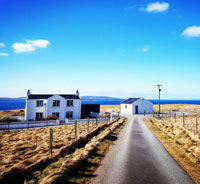 "An island B&B with gourmet food" – Abhaig is in a great location near Uig, North Skye.
We have one garden facing room (for 2/3 guests) in the main house, plus 'Am Bothan Dubh' a luxurious cabin for 2, with breakfast served in the main house each day. We give lots of space, a big welcome and great food – ideal for couples or a group of 4/5 adults. Sorry no pets.