Kyleakin Bed & Breakfast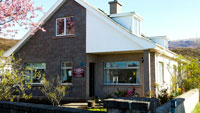 Bed & Breakfast in the village of Kylealin by the Skye Bridge.
Glenarroch offers B&B accommodation with a selection of room types including: single, double and family room options.
Breakfast and meals are served in the neighbouring Saucy Marys Lodge. Book you stay online and then explore the Isle of Skye in the Scottish Highlands.