Dunvegan Bed & Breakfast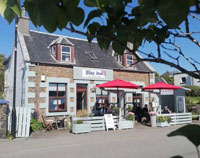 Bed & Breakfast accommodation in Dunvegan on the Isle of Skye.
The rooms behind Blas Café were originally a store, but we have now converted them into two en-suite bedrooms. We have named the rooms The Grant and The Macleod, each room has a small fridges for milk and your continental breakfast. Stay with us at Blas when you next visit Skye.