Isle of Skye Restaurants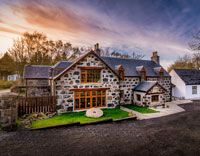 An historic 16th Century Hunting Lodge in the village of Edinbane, which was fully renovated in 2018. Now a casual, fine dining restaurant with rooms.
Head Chef Calum Montgomery serves his "A Taste of Skye" menu, showcasing the best ingredients available to the island over a multiple course tasting menu. The menu reflects his passion and determination to source, prepare and showcase the very best fresh seafood, game and vegetables that Skye has to offer.