Skye Arts & Crafts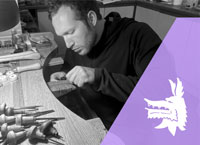 Hand Crafted Fine Celtic Jewellery.
Working from the Duncan House workshop in Strathaird on the Isle of Skye Gareth Duncan creates Celtic Jewellery.
Complex Celtic designs are skilfully carved in wax to create moulds to then pore the selected metal such as silver or gold. We have a range of Jewellery including Rings, Pendants, Bracelets, Earrings and Brooches. Visit our showroom in Strathaird to meet Duncan and see his work.