Skye Arts & Crafts
NEW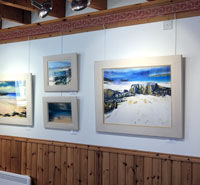 The gallery, situated on the waterfront by the old stone pier at Eilean Iarmain, hosts a range of exhibitions from March to November.
Exhibitions feature artists whose work celebrates Scottish landscapes, seascapes and wildlife. Come in for a look around and purchase a beautiful picture to take home with you!
See our exhibition calendar on our website.