Isle of Skye Bus Tours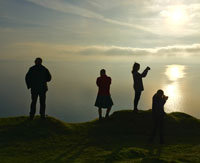 Scottish Guided Tours offer small group, private tours for up to 8 passengers.
Exploring the Isle of Skye and the Scottish Highlands with a private guide. Departing from Edinburgh, Stirling & Glasgow. Join us in experiencing the beauty of Scotland & the Isle of Skye on a private tour. A 5 Star rated journey of a lifetime. Your Scotland discovered.