Isle of Skye Boat Trips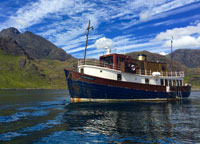 Exclusive small-ship cruising on the West Coast of Scotland with trips to the Isle of Skye.
We offer a choice of exclusive itineraries featuring Skye and the Outer Hebrides as well as St Kilda. We also cater for private charters with individual cruise itineraries. Relax on board and soak up the fabulous scenery as you are transported off on a trip of discovery while enjoying excellent Scottish hospitality and gourmet food.