Isle of Skye Boat Trips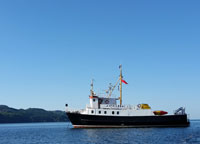 St Hilda Sea Adventures provides unique cruising holidays on the beautiful west coast of Scotland, each taking in a unique area of Argyll and the Inner and Outer Hebrides; an unforgettable adventure for all ages!
We cover a wide cruising area and have cruises which go to the Isle of Skye and even to the archipelago of St Kilda. Check out our website to see our new itineraries and check for availability.