Isle of Skye Boat Trips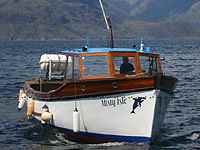 A warm Highland welcome awaits you from Seumas MacKinnon and his crew aboard the Misty Isle. Board the Misty Isle from Elgol jetty for an unforgettable trip to spectacular Loch Coriusk.
Look out for dolphins, basking sharks, whales and seals. You may also be lucky and spot golden eagles or even the elusive white tailed eagle. Plenty of time ashore to explore or simply soak up the scenery followed by a welcome cup of tea on your return journey.